Color Chord Improvisation
Color Chord Improvisation Volume 2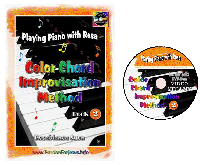 Level:
Intermediate
5 Songs:
Day By Day
Thanks To God
Silent Night
Onward Christian Soldiers
It Is Well With My Soul
For each song, the following are discussed in detail:
Song analysis
Poetic structure
Rhythmic diagrams
Chord progression
Music Theory:
Circle of 5ths
Major 7th
Minor Chord Substitution
ii7
ii7 V7 I
Secondary Dominants
II7
9th Color Tone
Upper Chord Extensions
Reharrmonization Skills
LH & RH Techniques:
10 Pattern Techniques + 35 Rhythmic Variations
Hypnotic Arp
Swinging Arp
Run-Up Tones
Dreamy 7
Melody in Octaves
Power 5
Mesmerizing 5+7
Color Octaves
Octaves Splash
Walking Bass
Rhythmic Bass Line Variations
Ballad 9
Hypnotic 9 Grace notes
Octave Rock
5 Improvisation Skills & Guidelines:
Playing with chords & creative practice.
Color Chord Improvisation Volume 2 Content
Written material
151 pages
Multimedia demonstration
4.6 hours of videos and audios
33 videos (wmv format, 720 x 576)
25 mp3 audios
15 midi audio clips
Product Format
Immediate Download or
Physical Product: All files on Computer DVD-Rom
Demonstration Video
This is a sample of an instructional video in chapter 10. I was demonstrating the Ballad 9 technique and its many possible rhythmic variations.
Note that the actual resolution of videos you will receive is much higher. This demo here is kept to a lower resolution to minimize buffering time.

Color Chord Improvisation
Volume 1

Regular price:

$69



Discount Price: $47

BUY NOW!
After payment, you will be taken to a page to confirm your order. Please key in your real name and best email address to complete the process. You will receive your download page link within minutes.
Don't forget to check out my OTHER Product Series!

7 Secrets Series

ReHarmonization Series

Play By Ear Series




Go to top of this page