Circle of 5ths Level 2 – Tritone, Tritone Chord Substitutions and Song Applications
Many music students are totally confused regarding Tritones and how to use Tritone Chord Substitutios into their music and composition.
We need to pay special attention to Tritones and learn the tips and tricks to harmonize your songs with Tritone Chords. They give you such beautiful tension sounds that you often hear in jazz music.
Professional musicians use Tritone Chord Substitutions a lot.
I have now written a book to explain thoroughly what Tritones are and how to put in Tritone Chord Substitutions. You need to know how to find them easily in the Circle of 5ths. Learn also when you cannot put in Tritone Chord Subtitutions.
This book is written for all musicians, whether you are a guitarist, pianist, or a ukulele player. This music theory in the Circle of 5ths works for all instruments, and not specifically for pianists.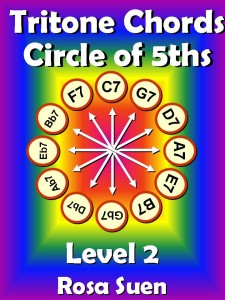 I am now in the process of creating a full Video Lecture Course on Tritones and its applications to songs. The music theory will be fully explained as never before. In the local workshop, it is a one day workshop where enrollment is US$500.
I am now making this workshop available in my Piano Online School at $199 here with 70% off meaning students only need to pay about $60.
==> Sign here to for FREE to get coupons notice as New Courses get launched.
While you wait for the video course on the Circle of 5ths to launch (possibly at the end of June), you can now get the material in book format at Kindle for only $2.99. When the book launches, the book will be charged at the regular price of $9.99
==> Only $2.99 at Kindle Amazon Pre-order for loyal students
Grab your pre-order today and I will see you inside my Video Course in the Online School with greatly reduced price!
Enjoy Enjoy and have a great summer!
Rosa
This entry was posted by admin on June 16, 2015 at 4:57 am, and is filed under Circle of 5ths. Follow any responses to this post through RSS 2.0. Responses are currently closed, but you can trackback from your own site.
Comments are closed.