Game: At what speed are you able to Read Music Notes?
I am presently working on "Read 22 Music Notes Fast – Level 3".  This course is going to concentrate on working on 'speed' so that you can eventually quickly sight read these notes on music score.
To be able to "sight-read", you need to be able to read 'individual' music notes quickly first!
Sight reading skill is a completely differently skill which in due time I will do an entire course on.
For now, learn to read individual music notes ACCURATELY & with SPEED.
You need to master ONE skill at a time.
**************************************
Test yourself with these 4 videos:  They are at different speed.
76 BPM – Walking Pace
92 BPM – Moderate Speed
120 BPM – Lively & Fast Speed
200 BPM – For Super Genius
1.  76 BPM – Walking Pace
2.  92 BPM –  Moderate Speed
3.  120 BPM –  Lively & Fast Speed
4.  200 BPM –  Super Fast Speed
Come and take this course to learn Rosa's Unique Music Note Attack! 
Take a look to see what other students are saying: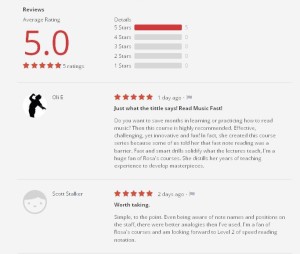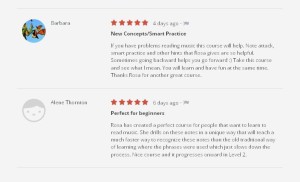 Enjoy, Rosa
This entry was posted by admin on July 11, 2015 at 10:59 am, and is filed under Read Music notes. Follow any responses to this post through RSS 2.0. Responses are currently closed, but you can trackback from your own site.
Comments are closed.