This new course is called Mastering Fun & Professional Piano Techniques!
It's exciting for me to see my students having so much fun in learning piano!  I am creating this new series of course for my students because this is something that they need at the present moment to take their piano playing to a higher level.
Our struggles:
we have already acquired some very basic skills to play good accompaniment to our songs, but we have reached a plateau that everything we play sounds very similar.
we  want to get out of the boring LH arpeggios but cannot because we don't know how else to play them.
we are frustrated trying to figure out how to fit the entire arpeggio into a song.
we do not know how to count the arpeggios to make them fit to the melody of the song.
we find our LH ballad playing so predictable and boring that they even put us to sleep at times.
we feel stuck in a rut and do not know how to spice up our ballad playing.
If this is your experience, this new series of "Mastering Fun Piano Techniques" is what you need at the moment!
Purpose of this course:
1.  This course is designed to 'help' students apply  ONE Specific Piano Technique – the Flowing Ballad 9 to songs.
2.  From my own experience of teaching, I notice that students need to DRILL one technique at a time to their songs so that the technique can become 'automatic' in their playing.  The series of video clips are prepared in slow motion and normal tempo so that students can practice, practice, and practice until they feel very comfortable in using the technique easily to songs.
3.  Therefore, this course is NOT about arranging a specific song.  If you want to learn how to 'arrange' a song, you need to get the Reharmonization Series.   This course is to help students to find as many places as possible to apply the Flowing Ballad 9 into 3 songs.
4.  In order that students can come away with confidence in Mastering the Technique, the steps shown are very thorough and systematic in the  video clips and explained clearly in the eBook.  All that is left is for students to have FUN practising them at the piano!
This course will give you:
1.  Many great piano tips of how you can turn boring arpeggios into professional sounding ballads.
2. This Flowing Ballad 9 is one that you want to MASTER! You can then apply them easily whenever you want to and it always sounds great.
3. My Secret Piano Tip of using 2 Hands to get out of the boring rut of LH repeated patterns.  Many concert pianists use this kind of techniques and that's how they 'flow' in their piano playing.
4.  Learn how to play the Ballad Flowing 9 in 8th notes.
5. My Secret Piano Tip of how to start implementing 16th note ballad playing into your songs!  This one is GOLD.  I know, because it took me years to come to this SECRET TIP of playing 16th Notes Easily.  Once you get this tip, you will sound professional. Your songs will all sound fresh & contemporary! You will add newness to all the good ol' fashioned Gospel Hymns!
6. Use the Color chord piano tip to put color tones into your ballad arpeggios playing.
7.  60 video clips showing you exactly how to play the Flowing Ballad 9 from 8th notes to 16th notes to WOW your audience!  Slow motion and play along!  For sure, you will be able to follow exactly how to put them into your songs.  You will learn how to count to fit arpeggios into the melody of the song.
8.  Watch, copy and play, play, play. That's what this course is about!
9.  With that foundation, you can go and experiment the idea and create your own Ballad 9 with variations!
Piano Tip:  Use Transfer Chord to Play Flowing Ballad 9 Fillers!
*Bonus Piano Tip: Walk Down & Up to the Next Chord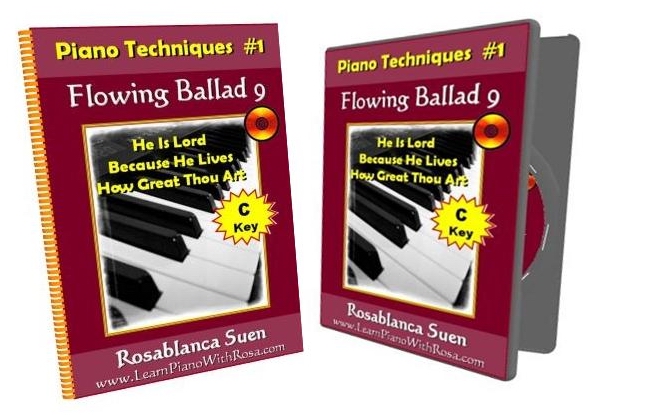 EBook: 66 pages
60 Video Clips: 70 minutes
Launching Sales
$29.95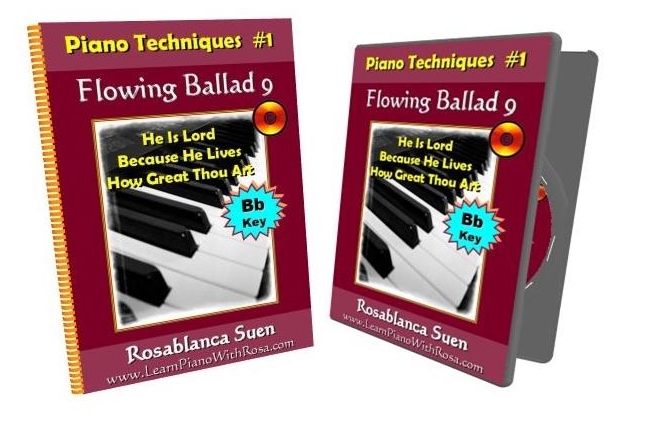 EBook: 66 pages
60 Video Clips: 70 minutes
Launching Sales

–
$29.95 
**************************************************************
OR 
You Can Get The

BUNDLE of TWO
At a VERY SPECIAL PRICE!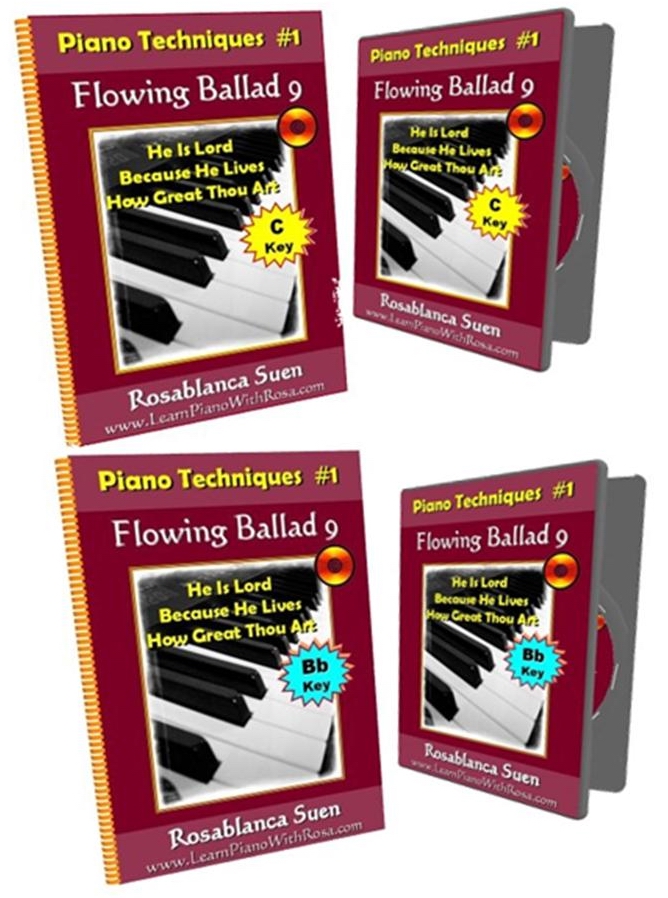 2 EBooks:  66 pages each
120 Video Clips: 140 minutes
Launching Sales

–
$42
Enjoy Your Piano Journey!