The Purpose Of these Mini Piano Lessons:



The launching of the Piano Technique #1: Flowing Ballad 9 was a smashing success.
I receive many feedback from students, and by popular demand, I am going to be creating a series of 'MINI Piano Lessons' in the upcoming weeks to help students  'Play In the Flow'.
Our Struggles:
we are too caught up with 'thinking' too much when we play, so we lose all flow.
we do not know how to fit a technique into a song smoothly.
we don't have enough muscle memory in our fingers to play a technique in a flowing manner.
we assume that playing a variety of technique at one time will help us play in the flow.
we don't know which good sounding technique to practice on so that we don't end up wasting time on techniques that are not worthwhile to pursue.
To Play In The Flow:  Master One Technique at a Time!
To get to the stage where you 'play in the flow', you must master some very 'good sounding' techniques into your fingers so that you can play them anywhere, anytime to other songs. If you cannot master the one technique into one song, then you will not be able to get to the state of 'playing in the flow'.
1.  So in these Mini Piano Lessons Series,  I try to help you stay very focused in ONE song to learn ONE  good sounding technique well.
2. Each Technique is carefully chosen to  make you sound professional.  You are going to stay very focused to playing ONE good sounding technique so well  that you can even play in your sleep.
These mini lessons are designed in such a way that they 'get  you to play in the flow' and 'leave all effort playing behind'. Thus, REPETITION is needed.
Don't be afraid of 'REPETITION'!
Repetition is what piano learners need!
Repetition will help train your muscles and mind to play without thinking.
Repetition will help your fingers 'move faster' than your thoughts.
Repetition will help you play your chords easily.
Repetition will help your fingers move freely on the piano keys.
Repetition will help your fingers to guide you as you play, so that you are not caught up with the 'mechanics' of fingering and counting.
Repetition will get you to the final goal: to reach a state where playing music becomes effortless!
When playing becomes effortless, you move into the flow!  You don't need to depend on score sheet, and your heartbeat will direct your counting from the inside.
When you move  'into the flow state', then you just play play play. Your playing becomes so much fun that creativity is unhindered. Your natural expression will come out freely.
I tell students: "Play in the flow". They don't know what I am talking about.  I describe to them. They look puzzled.  So now, I have designed a METHOD into the piano course to move students to play in the flow by following the method of learning in these mini lessons.
So the METHOD behind these  mini lessons are there to train you brain intuition.  When you follow the SYSTEM from one video to the next, you will know what it is to play in the flow.  Rather than for me to explain to you what 'playing in the flow' is, you are going to EXPERIENCE it for yourself as you go through the training in these videos.  As you apply yourself into these video lessons and practice, it's like "Practice Flowing".
More specifically, the videos in the mini lessons are there to help you experience the 'quickness' of the hands, ie. to let your hands outpace your thinking.  Once your intuition and your muscle memory lead you forward, you 'drift into the flow' of piano playing.
In the beginning stage, I provide score sheets for you to follow.
Then you learn to see how the 'counting' fits into the chords.
You learn to play by ear with just chords notation.
Final stage is for you to play the song by ear after sheer repetition. You may not get to this stage very quickly but by the end of 3 months of mini lessons, you will arrive to some stage of playing by ear.
Well, in the coming weeks, I am going to be offering mini courses to further reinforce the idea of 'mastering a technique' into your fingers easily so that you can play 'in the flow'.
I try to use different ways for students to repeat the playing so that they know what to concentrate each time. Each time – I move them forward to get into the 'drift of flow'.
---
Mini Piano Lessons Series
Mini Piano Lesson #1 Nostalgic 10
Mini Piano Lesson #1:  Flowing Nostalgic 10
Piano Tip:  Use 3rd Finger Cross Over to Play Flowing Nostalgic 10
Song:  I've Got Peace Like A River
Key:  C Key & F Key

Bonus Piano Tip 1:  Expanded Flowing Ballad 9  ( Line 2 Bar 3)
Bonus Piano Tip 2:  Add Amen Chord for Ending:  IV/I  I   (Line 4 Bar 3)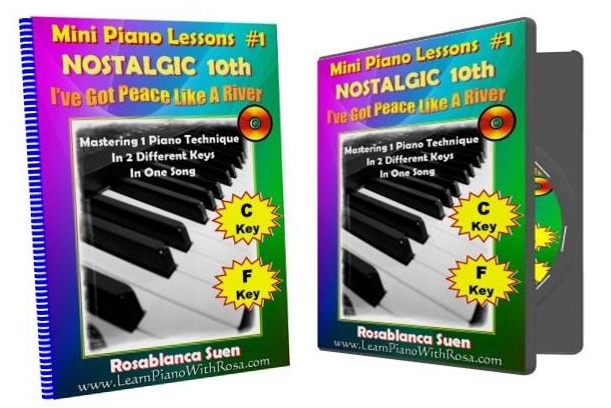 50 Page Manual
51 Video Clips – 47 Minutes
Special For My Students
 $24
Enjoy your piano journey!
Rosa