Piano Technique #2 – Ostinato Dancing 9
8th Notes to 16th Notes
Mastering Fun & Professional Piano Techniques!
Have you ever wondered how you can make RICH & Dynamic LH accompaniment without boring everyone to death?
Piano Tip:  Learn to turn 8th Note Playing to 16th Note Playing – This is what differentiate a professional player from an amateur player.
It's exciting for me to see my students having so much fun in learning piano!  I am creating this new series of course for my students because this is something that they need at the present moment to take their piano playing to a higher level.
Purpose of these Piano Technique Courses:  Turn 8th Note Playing to 16th Note Playing!

1.  This course is designed to 'help' students apply  ONE Specific Piano Technique – the Dancing 9 to 4/4  songs.
2.  From my own experience of teaching, I notice that students need to DRILL one technique at a time to their songs so that the technique can become 'automatic' in their playing.  The series of video clips are prepared in slow motion and normal tempo so that students can practice, practice, and practice until they feel very comfortable in using the technique easily to songs.
3.  Therefore, this course is NOT about arranging a specific song.  If you want to learn how to 'arrange' a song, you need to get the Reharmonization Series.   This course is to help students to apply the Ostinato Dancing 9 into 3 songs.  Get this technique flowing into your hands so that you can apply this technique to any song any time.
4.  In order that students can come away with confidence in Mastering the Technique, the steps shown are very thorough and systematic in video clips and explained clearly in the eBook.  All that is left is for students to have FUN practising & dancing the ostinato 9 at the piano!
This course will give you:
1. Dancing 9 – the name tells you that your fingers are going to DANCE on the keys.  The Dancing 9 is  an EZ technique that you want to MASTER! This fun technique will help turn a plain song to  'dance'.   It will give momentum to your song. It will make your song 'dance' and not boring at all.
2.  Learn how to play the Dancing  9 in 8th notes.
3. My Secret Piano Tip of how to start implementing 16th note ballad playing into your songs!  This one is GOLD.  I know, because it took me years to come to this SECRET TIP of playing 16th Notes Easily.  Once you get this technique into your fingers, you will sound professional. Your songs will all sound fresh & contemporary! You will add newness to all the good ol' fashioned Gospel Hymns!
4.  The video clips show you exactly how to play the Dancing 9 from 8th notes to 16th notes to WOW your audience!  Slow motion and play along!  For sure, you will be able to follow exactly how to put them into your songs.  You will learn how to count to fit arpeggios into the melody of the song.
5.  Watch, copy and play, play, play. That's what this course is about!
6.  With that foundation, you can go and experiment the idea and create your own Dancing 9 variations!
Piano Tip: Use Index Finger to Anchor on the 5th tone!
3 Songs:
God Is So Good
I Have Decided to Follow Jesus
There Is A Fountain
Key: C Key & D Key
Lots of Play Along Clips for you to imitate and copy so that you learn to 'flow in your dance'!
*Bonus Piano Tip #1: RH Melody Tones Filler
*Bonus Piano Tip #2: RH Suspension Chord Melody Filler
*Bonus Piano Tip #3: RH Dancing Chord Filler
*Bonus Piano Tip #4: Add 9 Chord Ending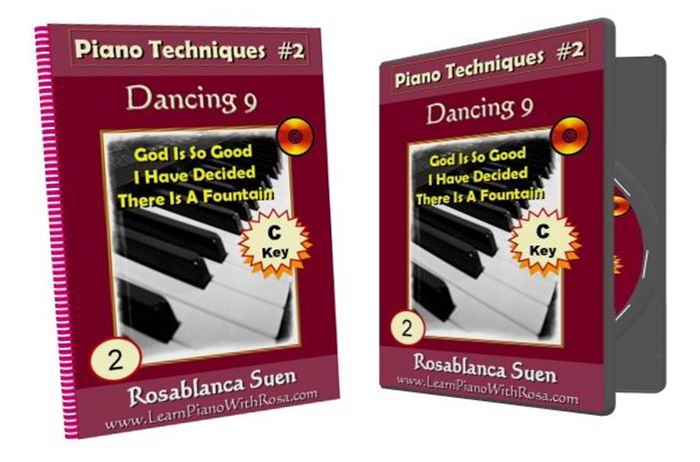 Piano Technique #2 – Dancing 9 – Key of C
EBook Manual : 70 pages
94 Video Clips:  2 Hours + 40 minutes
Discount Launching Sales

$32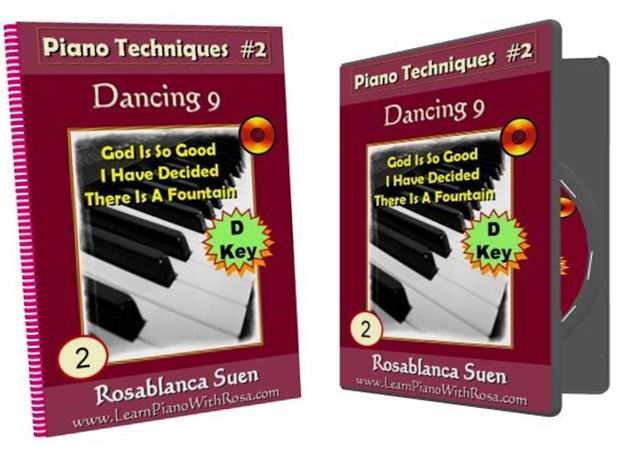 Piano Technique #2 – Dancing 9 – Key of D

EBook Manual: 70 pages
94 Video Clips: 2 Hours + 40 minutes
Discount Launching Sales

$32
**************************************************************
OR
You Can Get The

BUNDLE of TWO
At a VERY SPECIAL PRICE!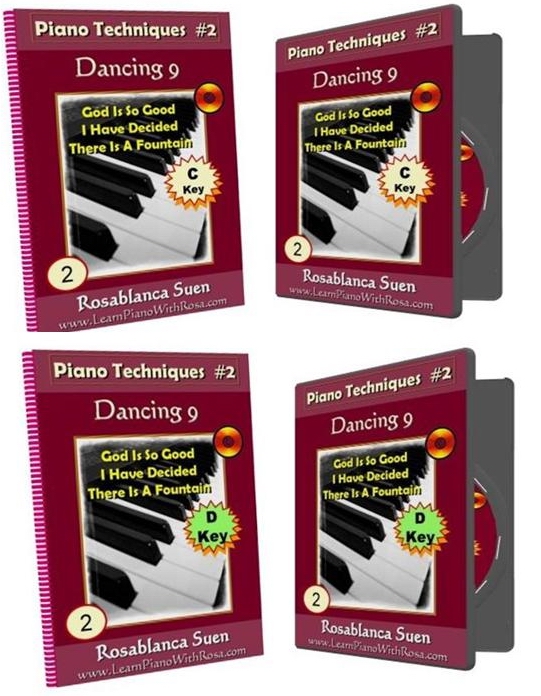 Piano Technique #2 – Bundle of 2
2 EBooks Manuals:  140 pages
188 Video Clips:  5 Hours
Launching Sales
$47