Play Christmas Songs
M

E

G

A

D

I

S

C

O

U

N

T

C

H

R

I

S

T

M

A

S  S

P

E

C

I

A

L  – 
2012
Last Christmas, I received such a fantastic response from my students about the Reharmonization Method 1 Course that many students asked if I would continue to develop more courses on Piano Reharmonization.  As a result, this year, I developed Reharmonization Method 2 – Power Chord Series for students to learn to play popular and movie songs.  More songs will be coming soon.
SinceReharmonization Method 1 is mainly Christmas Songs, I decided to provide a MEGA DISCOUNT CHRISTMAS SALES  for other students who are now ready to take their piano playing journey onto the next level. Some of you have requested for special bundle sales, and so I am providing the following Bundle of 9 for a special discount price for my students.
You can now start practising these Christmas songs to play for Christmas.  You have 3 months to learn to play these songs for your Christmas family gatherings and enough time to make your own CD as Christmas presents for your friends. How wonderful! Don't forget to send me a copy.
Reharmonization Method 1 is suitable for Intermediate to Advanced Level of piano playing.
Christmas Bundle Special #1: A Total of 9 Kits
Reharmonization Study Kits 1 to 9
Christmas Special Bundle #1: 
98 eBooks 
+
23 Hours
of Videos
Reharm Kit 1: Foundation Course: Away In A Manger – 10 eBooks + 4 Hours Video
Reharm Kit 2: Away In A Manger (Traditional Melody) – 11 eBooks + 2 Hours Video
Reharm Kit 3: Joy To The World – 11eBooks + 1.5 Hours Videos
Reharm Kit 4: Jingle Bell Rock – 11 eBooks + 2 Hours Videos
Reharm Kit 5: O Holy Night – 11 eBooks + 2.5 Hours Videos
Reharm Kit 6: When A Child Is Born – 11 eBooks + 2 Hours Video
Reharm Kit 7: Morning Has Broken – 11eBooks + 2 Hours Videos
Reharm Kit 8: The Old Rugged Cross – 11 eBooks + 2 Hours Videos
Reharm Kit 9: Aura Lee – 11 eBooks + 5 Hours Videos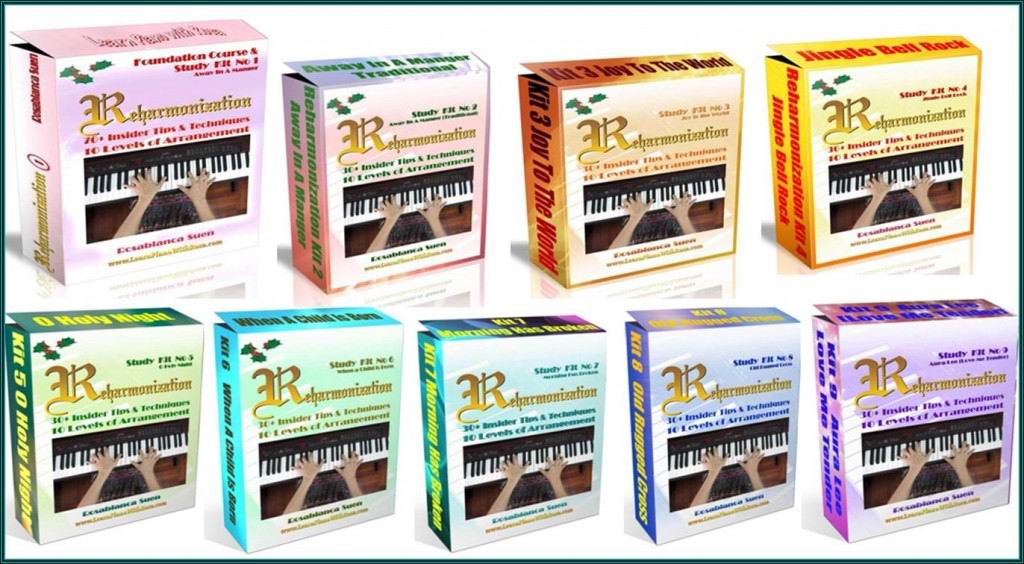 Original Launching Price: 

$397
Buy Now –  $297
 (Save $100)