Reharmonization Study Kit No. 9
Aura Lee (Love Me Tender)

In Kit 9, I will show you how to reharmonize this song in Key of C and Key of G. The 10 Levels of Reharmonization are done in C Key while the piano technique section is done in G Key. You are going to learn to play this song RHYTHMICALLY with runs and fills in Key of G. You will also learn how to change the mood of the song by playing 3 different styles: 1. Jazzing up the song in an up-beat flavor with syncopated rhythms. 2. Slowing down the song to a ballad style to give the song a romantic style with tenderness. 3. Playing the song in 16th notes to give it a nostalgic classical style so that you can add in 16th notes runs and fills easily. Learn these 7 Syncopated rhythmic patterns. Learn the freedom to play rhythmically by playing on off-beat notes anywhere in the measure.
Syncopated Rhythm #1: Delay the 4th note:
RH: 1 + 2 + 3 + 4 +
Syncopated Rhythm #2: Delay the 2nd & 4th note:
RH: 1 + 2 + 3 + 4 +
Syncopated Rhythm #3: Move forward the 4th note:
RH: 1 + 2 + 3 + 4 +
Syncopated Rhythm #4: Move forward the 2nd note:
RH: 1 + 2 + 3 + 4 +
Syncopated Rhythm #5: Delay the 1st note:
RH: 1 + 2 + 3 + 4 +
Syncopated Latin Rhythm #6:
LH: 1 + 2 + 3 + 4 +
Syncopated Latin Rhythm #7:
LH: 1 + 2 + 3 + 4 +
By the time you finish these lessons, you will be able to jazz up any song you wish. You will also learn the following 16th Note Runs & Fillers with a variety of piano handshapes: 4TO Inversion Hands, 3T Inversion Hands, 4T6 Handshape, 4TO Handshape, Diminished 7 Handshape, 2 Quartal Handshapes 1. C/D 16th Sus Chord Rolling Down 2. GM9 16th Harmonic 9 Filler in Contrary Motion 3. G7b9 Rolling Wave Run WWBW Diminished 7 Handshape 4. G6/9 16th Quartal Dip 3 Dip 1 Run 5. C/D 16th Sus Chord Rolling Up 6. G & Em7 16th RH Grouping Fillers 7. G 16th Transfer Chord Run 8. G Triplets Classical Ascending Chord Run 9. A7 Echo Fill 10. D7b9 WBBW Rolling Wave Run 11. G6 16th Harmonic 6 Run
Understanding Chord Progressions:
You will learn how to play by ear using the following chord progressions. The following are some chord progressions you will learn in this song:
C F G7 C
C F C
C F Fm C
C F Dm7 G7 C
C Am Dm G7 C
Em Am F C
Am F Dm G7 C
F Am7 Dm7 G7 C
F D7 G7 C
Am7 F D7 G7
C C7 F D7 G7b9 C
C C#dim7 Dm7 G7 C
F F#dim7 C/G
C C+ F
A7 A+ F D+ G+ G7
F F/G G9 Csus C
C C7 D7sus D7 F/G G9 C
F D7 G7 Db7 C
GM9 A9 D9 GM9 C/D
G7 B7 Em7 G7
C Cm G6/9
G G7 E+ A7 C/D

ONLY $47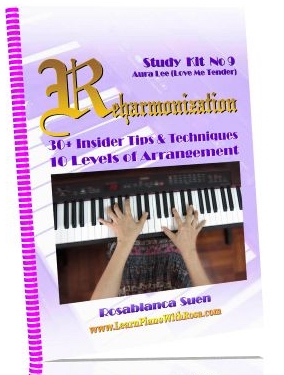 Aura Lee / Love Me Tender – an all time favorite song that we all grew up with.
Click to Download – FREE Piano Techniques ebook – 82 pages!
Enjoy Enjoy! Rosa
---