7 Secrets: Tapping into the Mind of a Piano Player
About the 7 Secrets Series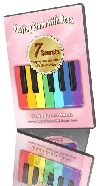 Dear Friends,
This is by far the most powerful piano course that I have developed that will change your piano life dramatically as it has done for my local piano students in Hong Kong.
The whole focus of the course is to teach students to play piano in the flow. Playing piano is more than learning chords, harmony, rhythm and different techniques. What is more important and often neglected is acquiring the proper mind set to apply music theory to our piano playing.
When we watch professional musicians play, we see their fingers flying over the piano keys quickly and effortlessly. Their fingers are so relaxed and in perfect control. Why? There is something else that is at work in their minds.
To play piano in the flow, you must know yourself and your fingers. How well do you know yourself? There is a right way of thinking when playing piano and there is a wrong way of thinking. The wrong way of thinking does not lead a pianist to play in the flow. The right way of thinking leads a person to creativity, to playing intuitively, to experimenting with their fingers and getting color chords, to improvising at the piano and let music happen. If you do not know your fingers and how they work together, your whole playing is very tense. When your fingers are tense and not relaxed, your creativity is blocked.
If you think that some piano players are more gifted and that they have hidden talents that you don't seem to have, or that you've practiced for years and your piano playing is on a plateau, these 7 secrets are prepared especially for you. The insights in these 7 secrets will remove the barriers that have been blocking your mind. Once you understand some simple truths, these insights will work in your mind over and over again to give you the depth you've always wanted in your piano playing. Understand how your mind works and how your fingers work so that you can relax and let music flow out unhindered.
This course is very UNIQUE. It's definitely not like any piano courses you see on the net, not even in my own books and online piano courses. This present course was first pioneered in my local Hong Kong Piano Workshop in Summer 2008. Since then, the workshop has expanded into many different modules in just one year.
I've now put together for you this EXCITING and FASCINATING piano method so that you, too, can join in the fun, and share in all the joys and rewards my local piano students are receiving.
This INNOVATIVE piano method consists of 2 aspects:
The Roadmap

Teaching Seminars & Demo Lessons.
Presents you with the FOUNDATIONAL insights of the 7 Secrets.
Demo lessons insightfully show you how the secrets can be applied.
Over 3½ hours of video.
The secret of how to use each finger.
The insight into left and right brain learning.
Much much more! Click HERE to check out the details.




The Modules: The Journey to Apply the 7 Secrets

Piano Workshops & Tutorials are grouped into thematic MODULES.
Each module lasts 6 weeks.
Lessons are all instructional videos, delivered to you via weekly emails.
Videos are in high resolution wmv format, and can be downloaded to your computer.
There are at least 2 video lessons per week. For some weeks, there are as many as 9 videos.
Each video is structured into bite size, close-up, easy to digest lessons.
Designed to motivate and challenge you weekly with new, fun, contentFUL material.
Well-paced, and structured - just like having a teacher coming to you home each week.
Free access to Rosa's Online Student Forum for further support.




What these 6-week modules will accomplish for YOU:

To give you a systematic plan to grow in your piano playing.
To take immediate actions and not procrastinate for another day.
To fast track your learning in all areas of piano playing by applying the 7 Secrets.
To gain confidence as you see dramatic improvement in your playing.
To develop a meaningful practice plan for you in 6 or 8 weeks' time.
To help you reach your highest potential and success in piano playing.
Most important of all: To develop a laser sharp focus and attention while you are at the piano so that you, too, can attain a QUIET MIND to make beautiful music.

I've made it possible for these modules to be sold separately so that you can decide and choose what you want to get for your personal interests and enrichment.
I've pondered often whether I should let out these 7 secrets so easily. It has taken me 27+ years to encapsulate the insights into these dynamic gems. Many musicians and teachers are unwilling to reveal so much to their students. I also struggled with this thought in the process of developing this powerful series. But when I see passionate piano students who are so eager to learn, their desires tug at my heart. I cannot but want to share all that I am able to with all of you. So the Series comes as a result of their enthusiasm.
I dedicate the 7 Secrets Series to each one of you who are buying the courses.
Explore the tabs on the top left of this page to find out much more about this exciting series.