Color Chord Improvisation
Color Chord Improvisation Volume 1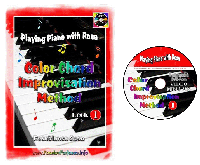 Level:
Beginners to Intermediate
5 Songs:
Alleluia
When I Survey the Wondrous Cross
Amazing Grace
Be Thou My Vision
Trust and Obey
For each song, the following are discussed in detail:
Song analysis
Poetic structure
Rhythmic diagrams
Chord progression
Music Theory:
Major scales
Triad Chords
V7 Chord
IV Chord
Perfect Cadence
Plagal Cadence
Open Harmony
10th Color Tone
LH & RH Techniques:
10 Pattern Techniques + 25 Rhythmic Variations
Octave Drum
Octave Bass
Block Chords
Broken Chords
Melody in 3rds & 6ths
Rolling 3rd
Waltz
Swinging Waltz
Simple Arpeggios
Open Hypnotic 10th
Rocking 10th
Angelic Arp
5 Improvisation Skills & Guidelines:
Playing with chords & creative practice.
Color Chord Improvisation Volume 1 Content
Written material
135 pages
Multimedia demonstration
3 hours of videos and audios
26 videos (wmv format, 720 x 576)
5 Virtual Piano Scores
27 mp3 audios
15 midi audio clips
Product Format
Immediate Download or
Physical Product: All files on Computer DVD-Rom
Demonstration Video
This is a sample of an instructional video in chapter 1. I was demonstrating the Octave Drum technique and its many possible rhythmic variations.
Note that the actual resolution of videos you will receive is much higher. This demo here is kept to a lower resolution to minimize buffering time.
Color Chord Improvisation
Volume 1

Regular price:

$69



Discount Price: $37

BUY NOW!
After payment, you will be taken to a page to confirm your order. Please key in your real name and best email address to complete the process. You will receive your download page link within minutes.
Go back to top of this page

Go explore Color Chord Improvisation VOLUME 2!