Color Chord Improvisation
Color Chord Improvisation Volume 3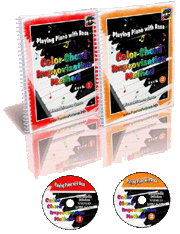 Volume 3 of this series is being planned for late 2010 or early 2011. Please check back!
If you are a student of any of my courses, you will automatically receive new course launch emails.
If you have not yet tried any of my courses, please sign up for my emailing list to stay informed!
Don't forget to check out my OTHER Product Series!

7 Secrets Series

ReHarmonization Series

Play By Ear Series