Color Chord Improvisation
Trial Lessons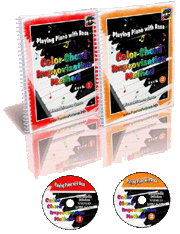 Perhaps you are interested in learning a particular song. Each chapter of the Color Chord Improvisation volumes focuses on a hymn, with analysis of its poetic and rhythmic structure.
Perhaps some specific technique or certain aspect of theory interests you. Those may be found in a unique chapter.
Or perhaps you are still not sure about my teaching approach, and simply want to try out one chapter first.
Although each chapter of the CCI volumes build upon the previous lessons, I have made it possible for you to try out single chapters from volumes one and two of the Color Chord Improvisation Series. I also hope that after sampling a single chapter, you'll be convinced that the Color Chord Improvisation Series presents a UNIQUE piano method, and that the volumes are well worth their prices.

Please click on this sales area in my Online Piano Forum to find out details on each CCI chapter and to make your Trial Lesson purchase.





Don't forget to check out my OTHER Product Series!

7 Secrets Series

ReHarmonization Series

Play By Ear Series